A park ranger is a nature expert, law enforcement officer, or both. Park rangers are in charge of protecting state, national, and private parks including the visitors to these parks and the wildlife within. While a park ranger most often works in a rural or wilderness setting, they are also found at historical sites, city parks, recreation areas, and on nature preserves.
Park rangers share their knowledge with visitors to the park. This includes preparing informational material and exhibits, developing conservation programs, and leading nature walks and tours. In addition, a career as a park ranger will involve conservation of the land that they are in charge of by studying wildlife behavior and monitoring the area and water quality in the area to make sure that the ecosystem is working properly.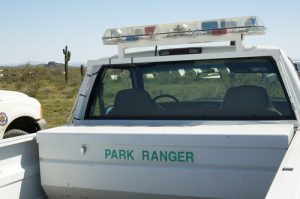 In a larger park a park ranger may have to search for hikers that are lost, rescue anyone that is stranded on the mountains, and tend to any visitors that become injured while at the park. In addition, a park ranger is in charge of enforcing all of the regulations of the park.
Job and Salary Outlook
The number of park ranger jobs depends on the conditions of the economy, but the numbers of these jobs that are available are expected to remain steady in the years to come. According to the Bureau of Labor Statistics the average national salary for forestry workers and conservation workers is around $57,240 a year. However, actual salaries for a position will vary based on specialization in the field, the location of the park, the amount of experience an individual has, and several other factors. Some of the park ranger jobs include housing as one of the benefits.
Becoming a Park Ranger
A person interested in becoming a park ranger should take courses in public administration, business, park or recreation management, law enforcement, and courses in all of the natural sciences.
For those that are interested in a career as a park ranger the first step is to obtain a bachelor's degree. Recommended majors include park management, business, and criminal justice or something similar. Science degrees are often preferred as well. The next step is to search for career opportunities that are available in the different state and national parks. The requirements for positions will vary based on the state, but all positions as park rangers require that an individual have at least a bachelor's degree. To advance in this career, a master's degree or other higher level degree is recommended in addition to acquiring the necessary experience.
Most park offices will have an extensive application process for someone applying for a position as a park ranger. Education and experience are two important factors that will determine whether or not a person is called for an interview. Internships are a great way to get the necessary experience for a position as a park ranger.