The main purpose of a social worker is to help individuals function within their environments in spite of barriers such as mental illness, physical impairments, drug addiction, alcoholism, and poverty. A social worker needs to have great listening skills and be sensitive and objective at all times.
 Education Requirements
A person that is interested in becoming a social worker should obtain a BSW (Bachelor's degree of Social Work). There are some employers that will allow a person to have other types of degrees such as one in psychology.
Some of the courses that are found in a social work degree program include:
Social welfare issues
Statistics for social work in research
Social work practice for research
Human behavior theory
Practice and principles of social work
Intro to social welfare
A bachelor's degree in social work will often take at least four years to complete.
Most positions as social workers will require an individual to have a master's degree in social work. For individuals that wish to provide therapy services, a master's degree is required. Students that are in a master level program will take advanced courses that focus on a specific area that is determined by the student. This may include child neglect and abuse, social work with adolescents, and practice in both community and home settings working with the elderly.
Individuals that decide they want to teach a social work program or at the college level will need to obtain a doctorate of social work. This will involve another four years of schooling to obtain. A doctorate in social work will be clinic based. A Ph.D. program will be based on research.
Social work education does not only consist of education in the classroom, but will also involve field work. Every social worker student will participate in an internship to provide them with real world experiences of what they have learned in the classroom.
When choosing a school for a career in social work it is important to look for programs that have been approved by the Council of Social Work Education.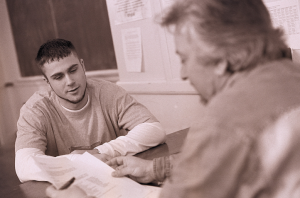 Getting into a Social Work Program
Most colleges and universities will require a student to first complete a core set of classes before applying for a social work program. When completing the general education requirements students should maintain a high grade point average in order to increase their chances of being accepted into the social work program.
License
Every state requires an individual to obtain a license in order to practice as a social worker. The requirements will vary by state, but often include work experience that has been supervised. A written examination may be required as well. A state may have different licensure requirements based on the type of social work that a person wants to work in.
There are some states that require social workers to take continuing education courses throughout their careers as well. It is important to look up the requirements of the state that a person wants to work in when obtaining a degree in social work.
Salary and Job Outlook
According to the Bureau of Labor Statistics (BLS), as of May 2013 Social Workers made an average salary of $56,060 with 62,640 employed across the United States.  The projected growth for the position is 8-14% over the next 10 years (source: ONET Online).