In late January 2013, local health leaders in Oklahoma County announced the creation of the Oklahoma County Community Health Network.
This Network is a new system that will make a broad effort to connect Oklahoma County's existing free clinics with area hospitals.
The hope is that these efforts will result in a more organized and coordinated system of care for clinic patients.
A great many uninsured residents face obstacles in Oklahoma County when it comes to receiving quality health care.
This is an issue that city and healthcare leaders are attempting to address through the new Oklahoma County Community Health Network.
It is seen by many in the community as a great opportunity to take care of those who are poor and who tend to be underserved by the private sector.
Volunteer efforts and the good intentions behind the project will make good use of the resources and positive energy of those involved.
Better Health Care for All
Health and local leaders believe that the creation of the Oklahoma County Community Health Network will serve the Oklahoma County uninsured population by connecting them with a much higher caliber level of care than what is normally within reach for this population.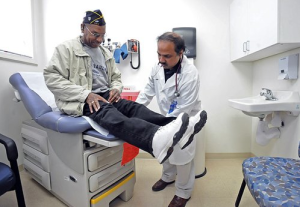 Throughout the past year, members of the new Health Network commission have worked to create what is in effect the master plan of how this network can work.
Group members assembled to strategize the outline of costs as well as longer-term goals and the itemization of issues that need to be addressed in the current system.
The current population of Oklahoma County is about 732,000, and of those about 139,000 are believed to be uninsured, with 90,500 of this group uninsured.
According to the commission, many of these families have household incomes that are at or below 200% of the federal poverty level.
The commission believes that Oklahoma County has more community- and faith-based healthcare resources per square mile than any other county, region, or major metropolitan area in the United States.
This means that the area already has more of a safety net in place than most of the country.
However, the most glaring deficiency in this safety net is the gross inability of the area's charitable clinics and low-income health centers to have access to a broad range of specialty healthcare services.
This means uninsured clients don't receive care in a way that mirrors availability for insured clients, the commission reports.
Better Communication Leads to More Efficiency
To address these concerns, staff members of the network have plans to coordinate services for patients from community health centers and charitable clinics, and do so in the most timely and prompt manner possible, reports Pam Cross, the executive director of Health Alliance for the Uninsured.
She and other officials underscore "timeliness" and a more intelligent way of handling the health issues of the uninsured.
For example, if someone has been to the ER multiple times for acute gallbladder attacks, then it only makes sense to get that person in for gallbladder extraction surgery so that future ER visits and associated costs are forestalled.
This also enables the person to be more present in life and work, allowing them to become more productive members of society.
As planned, the Oklahoma County Community Health Network will consist of 12 – 14 staff members which will include nurses, social workers, and bilingual staff members.
Current plans have created the network as a single referral source that will connect patients from the free or low-cost clinics they attend to more advanced specialty care.
The hope is that whenever a patient lands in a clinic with just one phone call, they can be moved to a higher level of care as needed and as warranted.
An Integrated Approach
The network also plans to establish a case management system allowing nurses to help patients navigate the health care system more efficiently and beneficially.
Nurses who are employed through the Oklahoma County Community Health Network will regularly keep tabs on patients, ask whether they're following doctor instructions and taking medications as prescribed.
Lastly, the network intends to convert clinics into the primary source of care for uninsured patients, as opposed to the hospital emergency room.
Projected startup/first-year costs for the network are $950,000, and the alliance has about 25% of funding already secured.
Per-year operating costs for the network are projected at $900,000.
Funds are coming from private foundations, trusts, hospitals, health systems, health foundations, corporations, businesses, residents, and the Oklahoma City/County Health Department.
The founding of the Oklahoma County Community Health Network is great news for underinsured and uninsured residents, as some of these individuals are living solely on social security or disability income.
In the past, healthcare options for lower- or fixed-income people were inconsistent at best.
With the health care system in Oklahoma County operating in a more integrated manner, residents at all income levels will be able to enjoy a more reliable quality and standard of health care.