If you enjoy being outside and think you might like helping other people enjoy the great outdoors too, you might like being a park ranger.
A big part of the job is conserving nature, including both plants and animals.
The part that may be overlooked at times, which is just as important, is helping other people enjoy nature as well.
Park rangers may enforce the rules of the park where they work, but they are also there to help others enjoy their time in nature.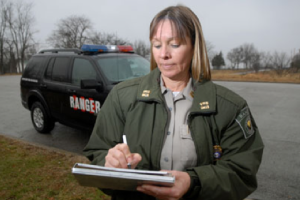 Job Description
A park ranger's primary job is to take care of the park, or wildlife area, they are assigned to.
This can involve managing an ecosystem and the animals that live there.
A park ranger may be a law enforcement officer, a tour guide, an environmentalist, a history expert, or some combination of those duties.
In a large national park, you might have only one of those jobs, but at a small park, you could be responsible for all of those areas.
Earn your Nationally-accredited, affordable Wildlife Forestry and Conservation career diploma online with Penn Foster in as little as 5 months!
Request Information
Sponsored
A park ranger manages a wildlife area, which is usually a park, and acts as a host for the people visiting the area.
You need to have a love for nature, and a desire to share that nature with others, to be a good park ranger.
Maintaining the park is also important, so you may have to maintain trails too, for example.
Part of the fun of being a park ranger is also the variety of tasks you perform.
You will have primary duties, but you may be needed to help out in other areas as well.
If they need another tour guide, you may get drafted, or if someone is lost, you may have to join the search and rescue team.
Public relations is normally a big part of the job, but there are some park ranger jobs that will have you alone outside in nature too.
So if you love nature, but are not wild about being around people a lot, there could still be jobs that would be a good fit.
Duties
Enforce park rules
Patrol the grounds, on foot, by boat, or by car
Write and keep reports about the park
Maintain trails and the ecosystem
Lead educational tours or hikes
Develop educational programs
Provide information to the public
Able to diffuse tense situations
Education people on safety and wildlife
Do search and rescue operations
Monitor wildlife in the park, and keep the environment good for them
Develop and implement plans to manage the natural areas of the park
Salary
There is a wide variety of pay for park rangers since their duties can be so different.
Park rangers at national parks average $77,000 per year and park rangers with the U.S. Forest Service average $48,000.
At the state level, at state parks and wildlife preserves, the average salary is around $45,000.
Arkansas was the lowest-paying state at $31,000 and Washington was first at about $46,000.
How to Become a Park Ranger
1. Get involved
Experience counts a lot when it comes to being a park ranger.
That leads to the age-old question of how to get a job that requires experience, with no experience.
The simple answer is to do volunteer work at a local park, regardless of what kind of park or what kind of work it is.
You may also apply for part-time jobs at parks, which are ground-level and don't require experience.
This can be at a national or state park, a local city or county park, or any kind of wildlife area.
In some cases, the experience you get will count as part of your education.
Volunteering at museums, libraries, or other historical type facilities, can also count as experience.
When looking at applications, those hiring in this field look at experience as just as important, or maybe more important, than education.
2. Learn about different kinds of jobs
There are many kinds of park rangers and a lot of different places you could work.
It is a good idea to learn about the different areas where you could work, whether at the national, state, or local level.
A big part of becoming a park ranger is to decide what kind of park ranger you want to be.
A game warden, for instance, enforces game and fish laws.
A worker at a visitors center at a national park might give tours as their primary job.
Do you like being outside on your own, or do you prefer being around people a lot while you are outside?
That could also play a big part in deciding what kind of park ranger you want to be.
At a small park, you might have a combination of many kinds of jobs.
3. Get an education
A high school diploma is assumed, and you will do a lot better if you get a college degree.
Experience can make up for some education, but most parks want you to have related education.
There are no specific educational requirements, but those with degrees in environmentalism, biology, wildlife, or forestry will get hired first.
Parks at the national level will want you to have some training in resource management, natural science, history, sociology, social science, history, and related subjects regardless of your major.
4. Look for seasonal work
The National Park Service has seasonal jobs that could be maintenance-type jobs, and provide great experience in working in parks.
At the national level, a year of education or half of a year of experience is considered equal as far as qualifying for a job.
It is a lot easier to get a federal job if you are already working at a national park or some other governmental-type natural area.
Seasonal work while in college is a great time to get the experience you will need once you are ready to look for a job.
4. Get a job
With a related college degree and some experience, you will be ready to become a park ranger.
There may be some legal certification required for law enforcement-type park rangers, but for the rest, there is no certification required.
Your education and experience will be what you need to get a job.
Getting a job will depend a lot on your ability to do well at an interview as you show your interpersonal skills.
5. Orientation
Once hired, you will get training at the facility that is related to your job.
This is where you will learn all the particulars of what you need to do.
This is done after you are hired, but it is required for you to actually start working.
It is paid training, and required for you to actually do the job you were hired to do.
Education
Experience is the education that matters most in becoming a park ranger in most cases.
Even so, some solid education will make sure you have what you need to do the job.
Experience as a volunteer at any park will also help you determine exactly what kind of park ranger you want to be.
One exception is that of a game warden or other type of law enforcement officer as a park ranger.
In those jobs, you will need certification in handling firearms and will need some police training.
Most parks want someone with a college degree, and what that degree is in, is not all that important.
If you have a lot of experience, you can take care of any education concerns.
Bachelor's degrees in things like park management, wildlife and forestry, biological or environmental science, horticulture, or even history, are good degrees to have when becoming a park ranger.
If your degree is in something else, you can still get a job if you have some classes that are related or some related experience.
You will need to know a lot about nature, and how to care for nature, and that includes plants and animals of all kinds.
Another big part is public relations.
You also need to be able to interact with the public positively.
Helping people remain safe, and helping them enjoy the natural world as much as you do, are very important skills to have as a park ranger.
Parks also have some orientation training that relates to your specific job.
This is probably the most important part of your education because it will give you the particulars of your individual job.
Parks also have specific procedures and policies to follow, that may be different from other parks.
The orientation training is the final step to starting your job as a park ranger.
Licensing and Certification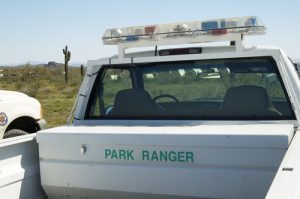 There is no formal certification or licensing to be a park ranger in most cases.
If you are a game warden or some other kind of law enforcement officer such as security, there will be some certifications required.
You will have to have some police training, possibly at a state academy, and you will have to be certified in handling firearms.
Park Rangers in the law enforcement area will also likely be certified firefighters and help with wildfires.
National Parks go with the federal government pay scale and have a more formal process than other parks.
There are levels 1 through 12, and the level of education and or experience goes up a little with every level.
A GS 1 has no education or experience requirements.
A GS 5 requires four years of education above the high school level and six months of experience.
The pay scale goes up with each level.
Should You Become a Park Ranger?
Overall satisfaction
According to many surveys, park rangers are generally happy with their work.
One park service said 67 percent were very satisfied with their work.
Most also said their personalities fit their jobs, and this may be the most important aspect.
Some personalities fit certain jobs better than others.
If you like the outdoors and working with people, this will be a fun job.
If you dislike both, or one of those things, you may not be very satisfied.
Most people who are park rangers say they are happy with their careers.
Average Salary
The average salary varies greatly depending on where you are and the type of facility.
National Parks average $75,000 per year, while state parks are at about $45,000.
Your education and experience level also have a lot to do with your salary.
This also varies with the region where you live.
For the level of education.
On the positive side, salaries for park rangers have increased faster than average salaries have since 2004.
Job Growth Outlook
Job growth for park rangers is at about the national average.
There is expected to be a five-percent growth in jobs each year through 2028.
There are also people retiring, or leaving the profession, each year, so there should be jobs available for the next several years.
It is different, however, for different kinds of rangers.
Wildlife conservation is expected to grow only three percent in the coming years.
No change is expected for game wardens nationally.
Education Duration
Apart from law enforcement officers, there are no formal education requirements to be a park ranger.
A general college degree in natural sciences, or public relations, will give you the training you need.
Most park ranger jobs do require more than a high school degree, but just a few years of college with some experience is all you need to get started.
Personal skills needed
Strong communication skills
Leadership ability
Love of the outdoors
Understanding of the natural world
How to use tools, somewhat of a maintenance person
Organization skills
Ability to adjust to changes
FAQ
How long do you have to go to school to become a park ranger?
In most cases, a college degree is the recommended level of education needed.
If you are in law enforcement you will have to do that type of training which is six months or so.
Experience is just as important as education for park rangers, so if you can get some experience, that will count for some education.
For the top national park jobs you need four years of college.
At state parks the requirement will be much less.
How much money does a park ranger make a year?
At national parks, the average is $75,000, and at state parks, the average for a park ranger is around $45,000.
There are many different kinds of jobs with different pay scales.
Most jobs are paid by the hour, and you can get overtime pay in most cases.
What kind of education do you need to be a park ranger?
You will need to have a good understanding of the natural world, so classes in biology and natural sciences will be very beneficial.
Some education in sociology, or interacting with the public, will also be very helpful for a park ranger.
Any education that helps you interact with the natural world, and with the public, will help you be a good park ranger.
There are no formal requirements, but this type of education is what most parks want for their employees.
Are park rangers in high demand?
The demand is not incredibly high, but it is good enough for a person to think they have a good chance of getting a job.
Most jobs in this area are growing at about four or five percent each year, which is about the national average.
Game wardens and other law enforcement jobs are not expected to grow that much.
What skills do you need to have to be a park ranger?
Possibly the most important skill is being able to interact and communicate with the public effectively.
Your primary job is caring for the park or facility, but just as important is helping people enjoy the park safely.
Interpersonal skills then, are very important.
Understanding procedures is also an important skill to have.
Being able to use tools, and able to do some physical type work, is also essential.