Criminologists have a very interesting job.
They study crime, criminals, and statistics to identify trends and help prevent future crimes.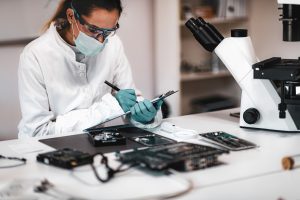 They may also work directly with law enforcement to create a profile of a criminal, which can help police identify the correct suspect.
What is a Criminologist?
Criminologists are interdisciplinary.
They use elements of psychology, criminal justice, and sociology to do their jobs.
They are typically employed by law enforcement agencies, including local police departments and large organizations like the FBI.
They track crime statistics, including the type of crimes committed, the demographics, and the motivation behind the crimes.
The more information they can gather about the crimes that are occurring, the more effective they can be at reducing crime rates.
They use their knowledge to make recommendations for how to reduce crime.
They also predict future criminal behavior, so precautions can be taken.
They generally study all types of crimes, from petty theft to murder.
However, more serious crimes are typically focused on because reducing these crimes is a better use of available resources.
They take a look at many factors.
They may study the environment, including the design of buildings and how cities are laid out.
They will consider how social factors and human behavior can increase or decrease crime rates.
If a criminologist works as a profiler, they will use their expertise to create a profile of a particular criminal.
This is often done in murder cases.
The profiler will compile all the knowledge they have about the criminal and victim.
This allows them to draw conclusions about the criminal that may include their personality, appearance, and other useful information.
How Much Does a Criminology Degree Cost?
The biggest cost to becoming a criminologist is the cost of your education.
Your cost will depend on a few factors, including the school you choose, whether you are in-state or out-of-state, and the degree you pursue.
The average tuition for an in-state public college to get their bachelor's degree.
One of the least expensive bachelor's programs is at the  University of Florida, which costs $5,656 in state, and $18,786 for out-of-state students.
One of the most expensive schools is Pennsylvania State University.
In-state tuition is $11,233 and out-of-state tuition is $39,469.
A Masters Criminology degree typically costs $9,000 to $25,000.
You'll need at least a bachelor's degree before beginning your new career.
Many employers require a Master's degree.
Other Costs Associated with Criminology Degree
In addition to the costs of the degree itself, you'll need books and materials.
These usually cost between $1,000 and $2,000.
The other major cost is living expenses.
The average cost of living expenses while getting your bachelor's degree is $17,494 if you live on campus and $19,654 if you live off campus.
Certification and Licensing
Criminologists aren't currently required to be certified or licensed.
States or organizations will have their own requirements, however.
This generally involves a bachelor's or master's degree, and the ability to pass a background check.
What Do Criminologists Study?
Criminologists will study many things as a part of a criminology major.
You'll take courses on research and analysis, including statistics.
You'll also take courses about the criminal justice system, which may include research methods, introduction to criminal justice, courts and sentencing, criminology, introduction to policing, and criminal justice crime control and policies.
You'll also take courses in psychology, sociology, and behavioral health.
Electives can include international tourism, crisis communication, and ending homelessness.
You'll take a variety of English, math, and science courses as well.
These will include composition, natural sciences, forensic science, statistics, and probability.
You may also take history, economics, or government courses.
Social justice and public policy are also useful courses.
Criminologists Salary
Criminologists in the U.S. earn an average of $69,716 a year.
The average salary ranges from $52,303 to $76,953.
The salary you earn can vary greatly depending on several factors.
The state and city that you are in is one factor.
Generally, you'll make more in a larger city.
Education is also a factor.
If you have a master's degree or higher, you are likely to earn more than someone with a bachelor's degree.
If you specialize in a certain area, this will also affect your pay.
Lastly, the organization you work for can have a big impact.
If you work for the CIA, you'll earn significantly more than if you work for a local police department.
Lastly, your experience will play a role in how much you earn. As you gain experience, you can expect to earn more.
Key Points
If you want to be a criminologist, you can expect to pay between $10,000 to $40,000 for your education, and $17,000 to $20,000 in living expenses while you are in school.
As a criminologist, you'll study crime patterns and find ways to prevent or reduce crime.
This is a great career if you have a passion for justice and helping people and society.