Wildlife and forestry conservation is important for native animals, plants, and their natural habitats.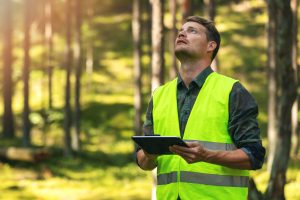 Wildlife conservationists use their education and knowledge to protect habitats and wildlife or help to reconstruct forests.
Their work helps to keep the natural world alive and thriving for future generations.
How Long Does it Take to Get a Wildlife and Forestry Conservation Certificate?
How long it takes to get a wildlife and forestry conservation certificate will depend on the program you choose and whether you attend school full or part-time.
Generally, you'll spend 5 months to 1 year getting a certificate.
Online Programs
One way to get your certificate is to take courses online.
Many online programs allow you to work at your own pace.
Earn your Nationally-accredited, affordable Wildlife Forestry and Conservation career diploma online with Penn Foster in as little as 5 months!
Request Information
Sponsored
These programs are known as self-paced.
Instead of having deadlines to complete assignments, you'll have a certain period of time, usually 1 year, to complete all the coursework.
These programs can often be completed in 5-8 months if you are studying full-time.
Some online programs require you to work at a specific pace.
These programs may require you to attend live online lectures at specific times.
You may also have assignments that are due at regular intervals.
These programs can take 6 months to 1 year to complete.
Hands-on or In-person Programs
Hands-on programs allow you to get real-life experience in wildlife and forestry conservation.
These programs usually take two semesters, or one year to complete.
Graduate Certificate Programs
If you already have a bachelor's degree, you are eligible for a graduate certificate program.
Since you've already completed the general education courses required for a degree, these courses focus solely on the courses you'll need for a career in the field.
These programs may be completed in one semester or two semesters, depending on the class load you are willing to take on.
Most require 18 credit hours.
What Will I Learn In This Program?
Individual courses can vary between programs, however, there are some basic things you can expect to learn.
You'll learn how to identify damage and gather data on water, soil quality, and insect damage.
You'll also be able to identify conditions that are a fire hazard.
You'll also learn what to do in the event a fire does happen to control it and stop the fire with the least amount of damage.
You will also be able to determine the species, quantity, and quality of trees.
You'll learn how to maintain wildlife areas, including trails, campsites, and other areas.
You'll spend a lot of time learning about wildlife, including their habits, habitats, and behaviors.
You'll be taught how to patrol forests and other natural areas.
You'll understand environmental protection regulations, and how to help enforce them.
You'll also become skilled in talking to foresters, scientists, researchers, and the public about forestry and conservation.
You'll learn how to manage wildlife including birds, predators, and fish.
You'll also learn the difference between state, local, and federal park systems.
Courses Included in the Program
Again, the individual courses will vary based on the program you choose.
Courses can include Wildlife Conservation and aquatic Ecosystem Conservation.
Ecology courses may include Applied Ecology, Fish and Wildlife Ecology.
Policy and management courses can include  Psychology of Environmental Decisions, Ecological Policy, Global Environmental Change, and Ethics in Natural Resources.
Other potential courses include Monitoring Wildlife Populations and Their Habitats, Wildlife Behavior, and Species Recovery Planning and Restoration.
What Can You Do with a Forestry and Wildlife Conservation Certificate?
When you receive your certificate in Forestry and Wildlife Conservation, you'll have several career options.
These include park guides, forest technicians, and forest and conservation workers.
Park Guide
Park Guides work with park visitors.
You may give tours or talks at the park.
You may explain the rules and safety protocols of the park, including rules intended to prevent damage from visitors.
You may also give guided tours, and provide maps of trails and attractions at the park.
Your job duties may also include maintaining the materials at the visitor center for the park.
You'll need to know about the local flora and fauna, and the history of the park and the area.
Forrest Technician
Forest technicians are sometimes required to have an associate's degree, but you may be eligible with a certificate.
You may need to collect data about resources and make decisions about resource distribution.
You may be involved in planning, supervising, and conducting operations to help maintain forest growth.
You can also work on conservation resources to ensure that resources are used responsibly.
Some forest technicians also work in fire prevention.
Forest and Conservation Workers
Forest and conservation work is an entry-level position that doesn't require any formal education.
All you need is a high school diploma.
A Forestry and Wildlife Certificate can give you a head start in this career.
You'll work under the supervision of someone more experienced, typically a forest technician or forest ranger.
Where Can I Work?
With a Forestry and Conservation Certificate, you can work for a local, state, or federal park.
Fish hatcheries and wildlife rescue centers are also options.
You may work for state game commissions, conservation groups, or an educational center.
Continuing Your Education
If you plan to continue your education after getting your certificate, you'll need to be sure that the classes will transfer to your new institution.
This can allow you to begin your career and continue your education at the same time.
Key Takeaways
Getting a certificate in Forestry and Wildlife Conservation is a great career if you love nature and want to support the environment, without spending years getting an education.
You can complete your certificate in as little as 5 months, with most programs taking 6 months to one year.
Once you have your certificate, you can begin your career or continue your education.