Park Rangers often work in national parks, but they can also work in state and local parks.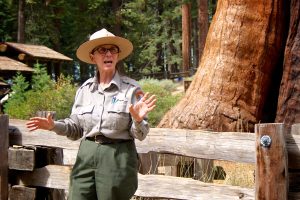 A park ranger takes care of the park he or she is assigned to, including looking out for the welfare of plants and animals.
They also help visitors stay safe and enjoy the park even more.
There are also many kinds of rangers.
Most fall into either the law enforcement or the cultural and interpretative areas.
Pros of Being a Park Ranger
1. A lot of time outdoors in nature.
If you like the outdoors this is a huge plus, and if you don't.
It may be a negative.
Earn your Nationally-accredited, affordable Wildlife Forestry and Conservation career diploma online with Penn Foster in as little as 5 months!
Request Information
Sponsored
Park rangers take care of all aspects of a park.
This could include wildlife management, and doing things like maintaining trails for visitors to hike.
Those in law enforcement, such as a game warden would be outdoors almost all the time.
Most parks are also beautiful and fun to be in, so to some people it would not even seem like work.
2. Intrinsic rewards.
Knowing you are helping preserve the area where you work, and that you are helping people enjoy the area too, can be a very rewarding situation.
You may do surveys of wildlife, or do things in the forest that will promote wildlife wellbeing.
You may also lead tours and give talks about the park, including the history and wildlife in the park.
Most Park rangers say they enjoy their work.
It may not be for everyone, but if you like being outdoors and working with animals and people, this would be a good situation.
3. Job security and benefits.
Park rangers are government jobs, which can be at the federal or state level.
The pay is reasonably good in most areas, though it is not considered a high-paying job.
There is a good benefits package containing things like insurance, paid time off, and retirement plans, Government jobs are known to be secure jobs, and you would be very unlikely to lose your job as a park ranger.
That would be even more the case as you get experience and gain seniority.
4. Low stress.
In most cases, you are taking care of a park with very few deadlines.
You can work at your own pace, and you have a lot of control over what you do and how you do it.
There could be a rare emergency that would be stressful, but most of the time there is no stress or pressure at all in the job.
There may be a lot to do at times, but it is still a very low-stress job.
People you deal with will also be relaxed because they are on vacation.
There could be stressful situations at times, but for the most part, there is very little stress.
5. Health benefits.
You get to be active and outdoors which is great for your physical, mental, and emotional health.
This could involve a lot of walking or hiking, which is arguably the best exercise you can do.
The health insurance package will be good, and you will do things that will promote your health as you do your job.
Just seeing the sunrise or sunset at various parks is enough to make most people feel good.
There have been many studies that show the many health benefits of being active outdoors.
6. Helping others.
Park rangers conduct educational programs, lead hikes, and tours, and educate people on the park where they are working.
You can add to people's enjoyment of the park and of nature itself.
If you enjoy teaching, this can be a great aspect of your job.
Helping people stay safe is also a good thing you can do for visitors.
This may include enforcing rules or just educating people about any potential dangers there might be.
Adding to people's enjoyment of the park is rewarding in itself.
7. Lots of variety.
In a smaller park, you may have a lot more responsibilities than you would at a large national park.
Either way, every day is different in some way.
You get to meet new people every day, and you will be interacting with them in different ways.
The very basics, taking care of the park and the people there, are the same, but it will be different every day because things always change.
You may also be called on to help other rangers, and there will always be a variety of tasks to perform.
8. Learning opportunities.
You will have access to historical and cultural sites.
You will have more access than the public does, and you will learn a lot about those things.
That is just one learning opportunity, and you get to share what you learned with visitors to the park.
There are always new things to learn about wildlife and plant life in the park as well.
Continuous learning is a definite benefit to the job.
9. Variety of tasks.
The job of a park ranger is to take care of the park, and there are a lot of aspects involved in caring for a park.
You may maintain trails do wildlife surveys, do maintenance work, as well as help people visiting the park.
You won't likely fall into a routine because there are always different things that need to be done.
Cons of Being a Park Ranger
1. Being alone.
In many ranger jobs, there is a lot of interaction with the public.
There are some jobs, however, that have you alone in isolated places.
There may be no cell phone service, which will make it even harder if you get in trouble while out there.
Some people like being alone, but it can be too much at times too.
The isolation does not happen to all rangers, but it does to some and it is a drawback for most people.
2. Seasonal work.
In many cases, jobs are only during the active months, and there may be several months of not working.
This can cause financial stress if you don't have another job or means of income.
Places that have harsh winters, like Glacier National Park, or Alaska, are good examples of parks that have very few people working during the winter months.
3. Work-life balance.
While it can be seasonal, during the busiest season you will have to work a lot of hours.
There will probably be a lot of overtime and extended hours over the summer.
You will be making more money, but it is tiresome and causes strains on families.
4. Bureaucracy.
Since it is a government job, there will be a lot of paperwork involved and lots of reports to write.
There will be data entry as well as following all the government regulations on reporting.
This takes away from the time you would spend outdoors taking care of the physical park.
5. Seeing your park abused.
One downside is seeing how bad some people can be, and the effect that has on the environment.
Littering is a problem, but that is fairly common and expected.
You may see poachers, vandalism, or the result of people illegally hunting.
It can be upsetting to see your work hindered like this.
6. Funding issues.
As a park ranger, you may not have the money to do what you feel needs to be done or to maintain the park properly.
Figuring out how to get things done with limited funds can be hard, but it is also an interesting challenge.
The government allocates a certain amount of money, and you have to try to maintain the park with that money because there isn't more available.
7. Enforcing rules.
Some park rangers are law enforcement officers, and they may face stressful situations with visitors who are breaking rules and interfering with the park itself.
Even if you are not in the law enforcement division, you will still have to talk to people about negative behavior and will have to try to get them to stop.
8. Physical demands.
You don't have to be a world-class athlete, but you do need to be in reasonably good physical condition.
There will be lots of walking outdoors, probably some maintenance work requiring lifting, and other physical activities.
If you are not able to walk a long distance or are challenged physically in some other way, you may not be able to do this job.
9. Limited advancement.
Job security is a great benefit, but that also means you may not have many chances to advance because people spend their whole careers ahead of you.
You can get some pay raises based on time worked, but those may be small.
Once you are a park ranger, you are likely to stay at that level as long as you keep your job.
Should You Become a Park Ranger?
Whether you like being a park ranger depends a lot on your personality and what you like.
If you enjoy being active outdoors and interacting with nature and people in many ways, this would be a fantastic job.
If you are not relatively physically fit, or if you don't like these things, you will not like being a park ranger.
The pay is not great, but it is reasonable.
It is a good low-stress job, though it does require hard work at times.
Pros and Cons of Being a Park Ranger Summary Table
| Pros of Being a Park Ranger | Cons of Being a Park Ranger |
| --- | --- |
| A lot of time outdoors in nature. | Being alone. |
| Intrinsic rewards. | Seasonal work. |
| Job security and benefits. | Work-life balance. |
| Low stress. | Bureaucracy. |
| Health benefits. | Seeing your park abused. |
| Helping others. | Funding issues. |
| Lots of variety. | Enforcing rules. |
| Learning opportunities. | Physical demands. |
| Variety of tasks. | Limited advancement. |