A private investigator is a professional who uses investigative skills to collect evidence.
They may work for a private citizen, lawyer, or agency.
Some private investigators also work closely with police enforcement to uncover details about a crime.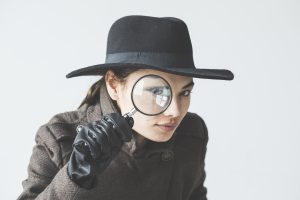 They may conduct research on people, including completing background checks or credit reports.
Additionally, private investigators are in charge of creating accounts and presenting evidence to their clients.
While all jobs are noble and all labor worthy of respect, some careers make people sit up and take notice more than others.
Or, to put it another way: They make movies, books, and songs about Private Investigators.
Earn your accredited, affordable private investigation career diploma online with Penn Foster!
Request Information
Sponsored
Other professions?
Not so much.
Private investigators require a particular set of skills and stick to specific guidelines to be effective at what they do and ensure they don't end up in jail.
A private investigator works with individuals, corporations, and businesses and seeks legal, financial, and personal information, researching cases in the field and conducting interviews and surveillance.
Private investigators, or PIs, can work in many places, and the work is ever-changing, with each assignment or case providing unique challenges.
For example, some PIs specialize more in research within the industry, while others emphasize surveillance and conducting interviews in the field.
Elements of a private investigator's job can range from searching for missing persons to following the digital tracks of cyber-criminals.
Or you can be a quieter superhero diving into court records, collecting evidence, and investigating intercompany fraud, theft, and embezzlement.
Or work as a classic old-school PI, combining contemporary surveillance techniques, background verification, and classic legwork.
How to Become a Private Investigator
Most private detectives and investigators need several years of work experience and a high school diploma.
In addition, most states require private detectives and investigators to have a license.
Being a private investigator demands a particular skill set.
And so, prospective PIs might wonder if there's a specific education or career track to help get the inside advantage in the profession.
While education is always an advantage, there are some private investigator jobs where candidates can gain entry into the field with a high school diploma.
A high school diploma and professional experience are the minimal requirements for a private eye—however, note that most states require a license, each with its own conditions.
However, some subsets require an associate's or bachelor's degree, such as a corporate investigator usually needs or at least benefits from a degree in business admiration or even a master's or Law degree.
For example, a corporate investigator needs a Bachelor's if not a Master's degree.
Many PIs specialize and take extra finance, business, and management training.
Popular degrees include Business, Political Science, Criminology, and Computer Forensics.
Pros of Being a Private Investigator
1. Varied Work
Private investigators handle diverse cases, from missing persons to fraud, so the job remains ever-changing.
Constantly learning and developing investigative skills keeps the mind sharp.
2. Autonomy
PIs often work independently, allowing for more control over their schedule and workload.
The job allows for flexibility in working hours and locations.
PI work involves critical thinking and problem-solving, which can be intellectually stimulating.
3. Income
Experienced PIs can earn a comfortable income or start an agency.
And the competitive salary is attractive.
A private investigator can work on a fixed-salary or project-based basis.
Private investigators may also have unlimited earning potential and can take on additional clients.
4. Building Upon Experience
Building a network of contacts in law enforcement, military, corporate, or legal areas is a natural career action for some people.
The adrenaline rush can be heady.
High-stakes cases can provide an adrenaline rush and excitement.
5. Altruism
Sometimes, helping someone find the truth or receive a measure of justice is its own reward.
As a professional investigator, you can help clients by uncovering the truth.
Plus, solving cases can help clients to find closure.
6. Mastery
By demonstrating investigating skills and a sense of professionalism, plus integrity, efficiency, and discretion, many private investigators can build a business model that enjoys the support of repeat clients and references.
Cons of Being a Private Investigator
1. Challenges of a Start-Up PI
Most states require a license —and many — even want evidence of experience as part of the licensing process.
Perspective candidates must arrange training and licensing expenses before putting out their shingles.
2. Business
Being a PI is a business, especially if you want to run your own PI Agency.
Besides private investigator skills and experience, you're responsible for interacting with clients and all office maintenance from marketing, invoicing, record-keeping, payroll, and taxes—repetitive tasks.
Work involves research, monitoring, and observation, which are essential.
3. Danger
Many sign on for the excitement.
No two jobs are alike.
The other side of the coin is that there can be cases involving physical danger or confrontations.
And there's the emotional cost of often dealing with people who are at the lowest point/behavior of their lives.
4. Revenue
Income can fluctuate, especially for new investigators—unpredictable workload.
Workloads can be unpredictable, leading to stress.
PIs often lack traditional employment benefits like health insurance or retirement plans.
5. Legal Constraints
PIs have to operate within legal boundaries, which can be complex legal knowledge and execution on the job.
6. License Requirements
Working as a private investigator often requires a state license.
Filing for a state license typically requires previous work experience as a private investigator.
Working closely with an established private investigator may help earn the knowledge and skills to apply for licensure.
Some individuals may start careers in related industries, such as law enforcement or non-governmental organizations.
7. Work Hours
Private investigators often work irregular hours.
Cases may require odd hours, including nights and weekends, which can make work/life balance challenging, especially when considering the emotional needs and time requirements of family, friends, and community.
8. Human Interactions
Client Pressure: Clients may have unrealistic expectations or pressure investigators.
The profession of PI can be challenging in relationships because of scheduling demands, emotional/physical requirements, and the need for discretion; the job can be lonely.
Tips to Turn You Into a Private Investigator!
Here are a few tips you can use as a private investigator:
Talk with current private investigators.
Information interviewing with people who are already working as private investigators can help you get a better understanding of the position.
This can help you decide if it's a career that you want to pursue.
Knowing the laws and the regulations in the state where you'll work is vital in ensuring that a PI is always on the right side of the law; it's crucial to know the law.
Or, as the adage has it, "Ignorance of the law is no excuse."
Develop soft skills, including active listening and communication; these skills can help you stand out against other private investigators.
Learn to blend in.
Many clients pay a private investigator to be versatile and to blend in.
Learning to be discreet and confidential can help you complete the job duties of an excellent private investigator.
Career Outlook and Opportunities for PIs
The projection for private investigators is strong and expected and projected to grow 6 percent from 2022 to 2032, faster than the average for most occupations.
Approximately 3,800 openings for private detectives and investigators are expected each year, on average, over the coming decade.
The average salary for private investigators in 2022 was $52,000.
Unless human nature or the means of detecting malfeasance changes, the career outlook for PIs looks solid for the near future.
Whether working in cybersecurity or stakeouts, the career prospects for professional investigators are expected to remain strong.
The U.S. Bureau of Labor Statistics claims PI jobs are foreseen to grow 13% through 2030.
Corporations, government agencies, public corporations, and private individuals will need professional, discreet, and skilled private investigators who understand the unique and special niches.
Picture corporations and retailers need skilled investigating to support loss prevention.
Or a business needing aid monitoring building permits, codes, and contracts.
Some investigators help individual clients with personal, relationship, or business issues.
There's a wide range of clients and projects that can build a solid base for a long-lasting and satisfying profession.
Find your niche and play to your strengths.
Should You Become a Private Investigator?
Becoming a professional private investigator can be an exciting career choice.
While not for everyone, it can be an unusual and intriguing selection you can customize and make your own.
PI can be a compelling career choice for those with the background, experience, and affinity for law enforcement or military background, and there is a great deal of skill and experience cross-over.
It's a great career that demands attention to detail and an understanding of human nature — without being bowled over by one's knowledge.
Plus, the ability to be self-directed and task-orientated yet withstand the boredom of waiting and routine and, conversely, stress, danger, and some of the less savory aspects–and the lapses–of human behavior.
You must be discreet, diplomatic, persevering, loyal, dogged, and determined.
A private investigator also needs to know the law to keep on the right side of it.
Pros and Cons of Being a Private Investigator Summary Table
| Pros of Being a Private Investigator | Cons of Being a Private Investigator |
| --- | --- |
| Varied Work | Challenges of a Start-Up PI |
| Autonomy | Business |
| Income | Danger |
| Building Upon Experience | Revenue |
| Altruism | Legal Constraints |
| Mastery | License Requirements |
| | Work Hours |
| | Human Interactions |