Without wildlife and forestry conservation, the world would be a dismal place to live.
Wildlife habitat would be stalemated, and oxygen levels would plummet.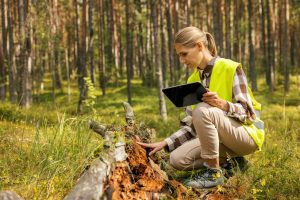 Not only is the future of our planet dependent on this biodiversity, but seeking a conservation certificate in this area is a way to pursue our very existence.
The Benefits of a Wildlife & Forestry Conservation Certificate
There is no better way to get an authentic feel for your interest in nature than through a program that captures the different areas of wildlife and forestry.
Everything from clearing trails to setting environmental policies can be in your future once your knowledge has been expanded and conquered on the subject.
Use your certification in a specific area or use it as a stepping stone to more intense forestry and wildlife studies.
A wildlife rehabilitator also begins with a wildlife conservation certificate.
Earn your Nationally-accredited, affordable Wildlife Forestry and Conservation career diploma online with Penn Foster in as little as 5 months!
Request Information
Sponsored
Your love of wildlife could be put to good use Learning how to care for different animal species while preparing them for return to the wild is a very rewarding job.
The average salary for rehabilitators can be from $28000 to $48500 per year.
This experience could also open doors to other areas of wildlife and the importance of their place in our world.
What Types of Subjects are Covered in a Conservation Program?
The list of study subjects is long, and you can learn as little or as much as your passion takes you.
A certificate program in wildlife & forestry often touches on the general concept and the skills required in the following areas:
Study of Mammals – This study may include where they live, anatomy, behavior, classification, and their role in the natural order of nature.
Organismal Ecology – Rainforests, wetlands, oceans, and grasslands are some of the organic chemistries that make up our ecology. Further, plants and animals with their DNA and cell structure provide the tools of organismal ecology.
Study of Water (Hydrology) – There are several characteristics of water depending on the location and topography. Oceans and freshwater bodies of water each have a diversified role in forming an equal balance in our ecology.
Bird Classifications – With over 11,000 species of birds, this subject could easily become a specialized field of study. General features and habits are usually included in the introduction of wildlife and forestry conservation program studies.
Forest Management – Several shoots branch off in forest management. Invasive species, forest fires and prevention, and managing vegetation are just a few of the important aspects of learning about forest management. Cutting timber and clearing paths also takes training and knowledge through a top-notch program.
Botany – The study of plants can be fascinating, especially in today's world. From protecting soil to wildlife nourishment, the assets found in thousands of plants are just now being discovered. This will continue to be a growing field for medicine and cross-breeding.
Environmental Education – This is an area where critical thinking, awareness, and the right attitude are needed to expand on the problems found within our environment. If you love nature and are a problem solver, diving into forestry and wildlife could be perfect for a new career.
Diversity of Employers and Careers
Forestry work often involves hands-on training in addition to learned skills.
Land surveying, botany, and firefighting are examples of skills that involve forestry training on the job.
The Department of Natural Resources uses permitted wildlife rehabilitators to care for animals and waterfowl that are sick or injured.
Learning about the various diseases and rehabilitation for species can help you play a role in caring for and releasing wildlife back into their natural habitat.
Some employers provide their certification programs to interested candidates.
These include:
Society of American Foresters
U.S. Forest Service
U.S.Fish and Wildlife
National and State Parks
Check these organizations to see what type of program they have to offer.
Different parts of the country may have a greater need for forest firefighters while others may be interested in those who can easily identify species of trees and potential insects and diseases.
Because the field is so vast, there could be a spot for you.
Universities Offering Wildlife and Forestry Certificates
If you are just starting, many colleges and universities offer various classes in forest and wildlife-related studies with hybrid and online classes.
Examples are:
Colorado State University – The Graduate Certificate in Conservation Actions with Lands, Animals, and People is an online course that focuses on natural resources and can be completed in 2 semesters.
The University of Illinois – Offering a Wildlife and Fisheries Conservation Certificate, this course is a mixture of in-class and online classes. Once your certificate has been earned, there is plenty of opportunity to advance into specialty fields.
Michigan State University – Research and technology play a role in wildlife and forestry conservation. In addition to in-person classroom and online learning, paid summer internships from connected forestry employers give you hands-on experience.
When you are fresh out of high school, deciding on a life-long career can be next to impossible.
You know that making money is a must and learning a skill is the best way to make this possible.
However, your goals for happiness cannot be set aside for later on.
If the different areas of wildlife and forestry outlined here have intrigued you, earning a certificate can give you a feel for future opportunities.
Most courses are online and run for a few weeks to a year.
Here is a list of wildlife online courses that show a detailed list of specific studies related to wildlife and forest conservation.
In addition, short courses, workshops, and webinars are offered on other sites.
Get Involved in the Forestry and Wildlife Field
There are several ways to get involved in forestry and wildlife.
If you think this could be a field that would be a fulfilling future, consider volunteer work or becoming an intern in your chosen interest.
Signing up for a certification course is a great way to learn more about wildlife and forestry.
Join professional wildlife and forestry associations.
Here you will meet other like-minded people to begin your journey to a bright future.