A position with the Department of Homeland Security can have you inspecting millions of pieces of mail, doing a stakeout on a criminal investigation, patrolling our borders on horseback, or protecting the United States President, among numerous other tasks.
It can be one of the most exciting careers to follow.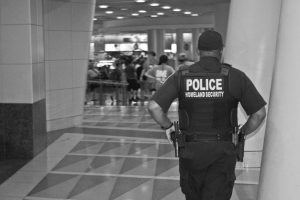 Being government positions, the pay is good and benefits are excellent.
Of course, pay scales vary depending on which position you are in, what part of the country you are working in, and how much time and experience you have on the job.
Today, we are discussing the highest-paid positions under the Department of Homeland Security umbrella.
These are the average salaries of those already working in these positions.
We also offer insight into what the position entails.
Highest-Paying Homeland Security Jobs
1. Secret Service Agent`
When you think about the Secret Service, you probably associate them with protecting the President.
This is one of their duties, but they also protect other national leaders, and they protect against fraud in the financial sector This position was originally started to prevent counterfeiting.
The average Secret Service agent makes $132,000 a year.
2. FEMA Civil Engineer
The FEMA Civil Engineer makes $121,000 a year for good reason.
This position is responsible for designing, monitoring the construction of, and maintaining the infrastructure in this country.
That includes not only roads, bridges, and tunnels, but also airports, hospitals, and water supply systems, among others.
3. U.S. Postal Inspector
The U.S. Postal Inspector is technically a security position that is intended to protect all mail personnel and see that illegal things such as drugs and weapons do not get through the mail system.
They are also responsible for helping detect any bombs and other harmful substances in the mail delivery system.
For their work, a postal inspector earns on average $111,900 a year.
4. FEMA Fraud Investigator
The salary of a FEMA Fraud Investigator is $111,500 yearly.
This position often involves travel and the inspector investigates reports of misconduct, fraud, or waste in the various organizations that receive FEMA funding.
Their job is to make sure the money gets used for its intended purpose and remains available in times of need.
5. CIA Information Security Agent
This position is mainly an office one and nets the worker $110,600 yearly.
The job duties of the CIA Information Security Agent are mainly to analyze security structures on the computer and find any weak spots.
It is then their task to fix these weaknesses to keep sensitive data safe.
6. Federal Law Enforcement Training Instructor
For their $100,300 a year, the Federal Law Enforcement Instructor guides agencies in the proper training methods of their security personnel.
It is their duty to make sure all employees receive the same training and that it is based on the safest standards in use today.
This can be an ever-changing job as security standards update.
7. FBI Cybercrimes Agent
The nation's cyber network is vast and it is the responsibility of the FBI Cybercrimes Agent to make sure anyone responsible for committing cyber crimes of any kind is found and brought to justice.
This may even include traveling to other countries if necessary.
The agent in this position can expect to earn a yearly pay of $97,400.
8. TSA Federal Air Marshal
Looking like any other passenger on commuter airplanes, the TSA Federal Air Marshal is always on the lookout for anyone who may be putting the crew and passengers in danger.
The position pays $95,000 a year and is most often one with little activity, but a lot of travel.
9. FBI Surveillance Agent
The FBI Surveillance Agent is the typical one you think of when you first think of the FBI.
Paying $92,000 a year, this is one of the most exciting Homeland Security jobs.
The agent most often works in the field, changing locations daily.
They work day and night and use electronics and photo equipment regularly to keep an eye on suspects of crimes.
They often can be found watching from vans.
10. ICE Agent
The average pay for an ICE agent is $86,500 a year.
This agent is responsible for preventing illegal goods and undocumented individuals from entering the country.
They can often be found working with the Coast Guard, TSA, or Border Patrol.
They are also the ones responsible for the deportation of individuals found to be here illegally.
11. Crime Prevention Specialist
A Crime Prevention Specialist receives $84,000 a year.
The responsibilities of this position consist mainly of responding to any emergencies that threaten the misuse or access of records that are held in the various facilities that house the National Archives and Records.
This specialist may also bring to the attention any threats to these records and find a way to strengthen the security.
12. NSA Intelligence Analyst
The NSA Intelligence Analyst is in charge of monitoring foreign countries and gathering information that may pertain to them gaining access to our intelligence information.
The information is used for national security and earns the analyst a yearly pay of $82,000.
13. U.S. Customs Agent
A U.S. Customs Agent works with Border Patrol to make sure nothing is brought into this country illegally.
This includes enforcing laws regarding agriculture as well as immigration and products that must be declared.
The average pay is $80,000 a year.
14. Cybersecurity Analyst
For $79,000 a year, the cybersecurity analyst is responsible for finding any possible threats in the nation's networks and data systems.
They must then figure out how to protect these vulnerable spots so that the internet remains safe and delicate information is not leaked from government files.
15. FEMA Intergovernmental Affairs
If you are looking to live in a foreign country, becoming a FEMA Intergovernmental Affairs Specialist for $78,200 a year might be for you.
This position requires the specialist to be assigned a certain locale where they will be the contact person for governments, the military, and citizens.
They often help oversee humanitarian efforts in these areas.
16. Border Patrol Agent
Border Patrol Agents patrol our nation's borders for $75,000 a year.
They can often be found patrolling areas with K-9 units, on horseback, or on off-road units.
They also can be found on boats in the water.
The purpose is to stop anyone from crossing the border without documentation or in a place other than a designated port of entry.
17. CIA Agent
A CIA agent must often forgo relationships with friends and family as their jobs are top-secret, and they work undercover regularly.
They investigate crimes of many kinds.
You need to be able to work alone as well as be confident and flexible.
The pay is $71,600 a year and the job is often full of danger.
18. FEMA Emergency Management Specialist
Someone has to coordinate the efforts of responding to emergencies such as natural disasters, and that someone is a FEMA Emergency Management Specialist.
For $68,800 a year, it is their responsibility to make sure shelters and emergency supplies are available to emergency response teams throughout the country.
19. CIA Counterterrorism Analyst
A CIA Counterterrorism Analyst earns a yearly salary of $67,400.
Their job is to seek out terrorist groups, study their likelihood of attacking, and find ways to stop any attacks that are planned.
They also report to the military and policymakers to make sure everyone is prepared for any attacks.
20. FBI Agent
The typical FBI agent is paid $64,000 a year.
They conduct interviews with witnesses and victims of crimes, collect evidence at crime scenes, arrest suspects, and search computers for evidence.
A special unit profiles criminals to make searches more precise.
This is the typical picture people have of an FBI worker.
21. NSA Police Officer
The NSA Police Officer is an armed member of the protective force that provides help with counterterrorism efforts.
They are often called in for emergency response and incident management for things that threaten our government facilities.
The pay is $55,000 a year.
These officers are sometimes put into dangerous situations, but this isn't a normal occurrence.
22. National Park Ranger
A National Park Ranger is the one who makes sure people are safe when they visit our National Parks.
They enforce fire safety laws, provide protection at campsites, search for lost people, and even give tours to visitors.
For preserving our forests, they earn $42,000 yearly.
This position requires working outside nearly all the time, including in bad weather conditions.
23. Financial Crimes Specialist
The salary for a Financial Crimes Specialist is $35,000 a year.
This is the position that is responsible for protecting banks and their customers from financial fraud.
They also venture into preventing money laundering and counterfeiting and investigate companies and individuals who defraud people.
24. TSA Transportation Security Officer
The typical Transportation Security Officer is the one who is tasked with ensuring the safety of airline passengers.
They investigate suspicious luggage, question people who set off alarms during a body scan, and check for things like IDs and tickets.
They earn $28,900 a year.
When not actively interacting with people, they must constantly watch to identify suspicious people and bags in the airport.
25. Federal Protective Service Guard
All federal buildings have special security guards.
These are Federal Protective Service Guards who earn $28,900 a year.
They assess security needs within a location, offer security at public events, and respond to police situations when needed.
They also work to coordinate disaster response in emergency situations such as a shooter or hazardous material leak.
3 Tips For Those Seeking a Homeland Security Position
1. Get Your Education
While there are a few positions within the Department of Homeland Security that only require a high school diploma, the majority require at least a Bachelor's degree.
If you are aiming for one of the highest-paying positions, you can plan on continuing your education throughout your time with the department, as many departments require specialized training in addition to the initial education requirements.
2. Prepare for an Extensive Evaluation
Most positions within this department are seeking candidates between the ages of 21 and 37.
You need to be a U.S. citizen, get a high grade on the civil service test, undergo an extensive background check, and agree to random drug testing.
Many positions require you to pass a polygraph test and some require you to pass a physical fitness exam.
3. Consider Joining the Military for an Enlistment Period
Most government positions give preference to veterans when they are hiring.
If you have at least one term of service with the military, you increase your chances of moving up the hiring list faster.
If your duties during that time fall within the same categories as the position you are seeking, the chances are even greater of landing an interview.