If you love solving mysteries and finding the truth, being a private investigator might be your dream career.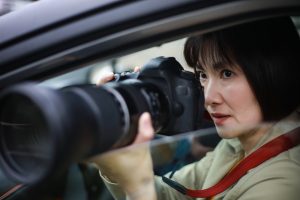 It allows you to help people, and solve puzzles.
You'll uncover facts and details, draw conclusions, and create reports based on your findings.
Not all states require you to get a certificate as a private investigator, but it can give you valuable skills that will help you be successful in your new career.
How Long Does it Take to Earn a Private Investigator Certification?
You can get a certificate as a private investigator within a few months to one year in most cases.
This will depend on the program you choose, and your course load.
Many private investigator programs are provided online, and these are often self-paced.
Earn your accredited, affordable private investigation career diploma online with Penn Foster!
Request Information
Sponsored
This means you may complete them faster than average, or take longer if you have other obligations.
Penn Foster's private investigator course can be completed in 2 to 6 months.
Stratford, on the other hand, offers a self-paced program that can be completed in 6 months to 1 year, with two years allowed to complete the program.
What Will I Learn During the Program?
During a private investigator program, you'll take courses in several areas.
You'll learn about the criminal justice system and the procedures that police and other legal officials have to follow.
You'll also learn what you are legally allowed to do, and what should be left to law enforcement.
You'll also learn about being a private investigator.
This includes learning to conduct interviews, research, and surveillance successfully.
You'll also learn about conducting background checks and online investigations.
You will learn how to complete different types of investigations, including domestic, background, accident, criminal, missing persons, and insurance investigations.
Do You Need a Private Investigator Certificate?
Some states require you to have a certificate or even a degree as a private investigator before beginning your career.
However, you may be able to skip this requirement if you have a background in the legal or law enforcement fields.
This can include military personnel, police officers, paralegals, and process servers.
These positions provide you with a foundation of legal and investigative knowledge, which allows you to work as a private investigator.
Some states only require you to have a diploma to start your career.
Other states require you to take an exam that shows you have the skills necessary to be a private investigator.
Georgia requires a 70-hour course and test before you can work as an investigator in the state.
Regardless of your state's requirements, a certificate can help you learn the skills you'll need, and give you a credential that can help you get started in the field.
When considering getting a certificate, it's important to understand that the field is very focused on hands-on experience.
A certificate may help you get started, but you can still expect to spend time working with an experienced investigator before striking out on your own.
Private Investigator Certification Options
In addition to earning a certificate as a private investigator, you can choose to become certified.
This can help you land clients or work with prestigious agencies.
You may even be able to perform investigations for the court with the right certification.
Certified Legal Investigator
Certified Legal Investigators perform investigations for law firms or contractors.
You can become a certified legal investigator by applying to the National Association of Legal Investigators.
The certification program requires you to have 5 years of work experience in the field or a related field.
If you have 60 hours of education as a private investigator, you will need 4 years of experience.
You'll also need to pass a written and oral exam and pay a fee of $300.
You must also be working as a legal investigator to be certified.
Professional Certified Investigator (PCI)
The Professional Certified Investigator, or PCI certification, is provided through ASIS International.
PCIs are qualified to investigate serious claims, including arson, child abuse, violence in the workplace, and healthcare fraud.
You'll need to take a written exam that consists of 125 questions.
These questions can include investigative techniques, planning, fact-finding, and reporting findings.
You'll need at least two years of experience in case management and five years of investigative experience.
If you have a bachelor's degree, you'll need four years of investigative experience.
You must have a clean criminal record, and pass the exam.
Members will pay $550 for certification, while non-members pay $855.
You'll need to recertify every 3 years.
Certified Professional Criminal Investigator
You can become a Certified Professional Criminal Investigator (CPCI) if you have strong technical knowledge.
If you have a bachelor's degree, you'll need two years of experience before applying.
If you have only a high school diploma, you are required to have 4 years of experience.
You can find a self-paced exam preparation course online, offered by McAfee Institute.
This program is recommended by the National Initiative for Cybersecurity Careers and Studies and helps prepare you to take the certification exam.
The course covers different types of investigations, including digital forensics, human trafficking, interrogations, and evidence collection.
The course takes 100 hours to complete.
Salary and Job Outlook
The average salary for a private investigator in the U.S. is $50,402.
The average salary range is  $40,8000 to $61,000.
How much you can earn will vary widely based on your location, the type of investigations you do, your experience, and your education.
Positions for private investigators are expected to grow by 6% over the next decade, which is faster than average.
This means you will have job security if you go into this field.
Key Takeaways
If you want to become a private investigator, earning a certificate is a great place to start.
You can spend as little as two months to one year completing a certificate course.
You'll also need to check your state requirements before beginning your new career.