If you've ever pictured yourself detecting cyber threats, patrolling US borders, and chasing down drug smugglers and international criminals via land, sea, air, or computer — starting a career in Homeland Security sounds like just the right career track for you!
America's Homeland Security graduates can take on a variety of roles in law enforcement, public affairs, health, intelligence, and legal affairs.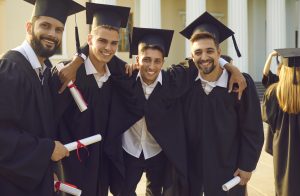 This comprehensive guide provides an overview of some of the best entry-level jobs for homeland security graduates, with a brief description of each job role and the latest available salary data.
Salary highs and lows are affected by factors including education, experience, and work location.
Best Entry-Level Jobs for Homeland Security Graduates
The best entry-level jobs for Homeland Security graduates encompass a variety of professional roles and local, state, and federal departments.
Most of the job roles below will require prospective employees to complete a bachelor's degree and to be able to pass mandatory background checks and drug screens in positions that require federal security clearance and direct contact with the public.
The United States Department of Homeland Security hires recent graduates to work in the following areas.
Acquisition and Procurement – Identify DHS needs and work closely with other agencies to procure technology, equipment, services, and supplies.
Cybersecurity – Protect the nation and its operations from cyber threats in computer networks and secure government systems.
Health and Science – Ensuring the safety and well-being of the nation and the public by identifying public health emergencies, biological hazards and implementing medical countermeasures to contain or eliminate threats. 
Intelligence and Analysis – Protect the US from security threats, including terrorism, cyber threats, and serious criminal activities that could result in national harm.
Law Enforcement – Safeguarding the country from terroristic threats, criminal activities, and immigration violations from nonauthorized entrants.
Legal and Litigation – DHS professionals work with a variety of US agencies and legal departments to resolve legal matters related to regulatory compliance, immigration, and US policy development.
Public Affairs – Homeland Security officials work closely with members of the public to facilitate trust and understanding between key US agencies and the general public.
Following are more details and salary information for some of the best entry-level jobs for recent grads.
#1. Border Patrol Agents
Average Annual Salary: $39,915.00
High Salary: $51,349.00
Low Salary: $31,027.00
US Border Patrol Agents are some of the country's most well-trained Homeland Security professionals.
Their job is to protect US borders from illegal entry by infamous criminals, including drug smugglers and terrorists, and prevent undocumented citizens from illegally entering.
America's border patrol agents cover our ports of entry at coastal waterways, ports, airports, and all other potential entry points.
The Office of US Customs and Border Protection reports the following duties for BPAs.
Border Patrol Agent Duties
Respond to Alarms in Designated Areas
Track and Monitor Undocumented Noncitizens and Smugglers
Bike Patrol
Boat Patrol
K-9 Patrol
Off-Road Patrol
#2. US Immigration and Customs Inspectors
Average Annual Salary: $95,033.00
High Salary: $103,355.00
Low Salary: $87,854.00
US Immigration and Customs Inspectors work with the Department of Homeland Security to prevent noncitizens and cross-border crime from entering the US.
Their goal is to ensure safe and legal immigration of authorized citizens, terrorism prevention, and transnational criminal threats.
ICE hires agents for field operations, professional roles, and administrative functions.
Typical job duties for customs inspectors working for the US Immigration and Customs Department – ICE include the following.
Job Duties for Immigration and Customs Inspectors
Enforcement and Removal Operations
Deportation
Detention
Homeland Security Investigations
#3. Cybersecurity Analysts
Average Annual Salary: $76,711.00
High Salary: $84,286.00
Low Salary: $69,952.00
The role of a Cybersecurity Analyst is skilled and complex.
They are tasked with the job of protecting America's networks, hardware, software, records, and digital assets from digital threats coming from inside and outside the country.
One of the most important tasks of today's cybersecurity analysts is to stay updated on the latest online threats and vulnerabilities that lead to online breaches or installing malware and viruses into protected networks.
Job Duties for US Cybersecurity Analysts
Installation and Operation of Software
Maintaining Firewalls and Other Defense Software
Digital Threat Research
Network Traffic Monitoring
Investigating and Reporting Online Security Incidents
Locating and Responding to Vulnerabilities in Networks, Hardware, Software, and Internet-Connected Devices.
#4. Emergency Management Specialists
Average Annual Salary: $79,180.00
High Salary: $147,870.00
Low: $46,920.00
The primary role of the Emergency Management Specialist is to predict, prepare for, and respond to national emergencies.
They provide emergency assistance and support to members of the public by working for governments, institutions, schools, and private companies.
America's BLS says that they expect the role of the EMS to grow about as fast as the average for all US occupations.
Job Duties for Emergency Management Specialists in the US
Track and Monitor Natural Disasters
Distribute Community Resources During Times of Emergency
Attending and Organizing Emergency Response Training
Coordinating Responses and Shelter During Natural Disasters
Crisis Management
#5. Federal Air Marshals
Average Annual Salary: $68,212
High Salary: $77,112.00
Low Salary: $59,312.00
America looks to its Federal Air Marshals as in-flight law enforcement officials to protect the public when flying on commercial airplanes.
Their role involves boarding planes undercover to deter and counteract crimes that occur in the skies.
They use investigative techniques, firearms proficiency, and aircraft-specific tactics to detect, contain, and subdue nefarious actors on US flights.
USAJOBS reports that America's Air Marshals typically carry out the following tasks. 
Job Duties for Federal Air Marshals
Making Mid-Air Arrests
Participating in Undercover Investigations
Executing Search Warrants and Arrest Warrants
Subduing Bad Actors on Commercial Flights
Testifying in Federal Court Proceedings
#6. US Intelligence Analysts
Average Annual Salary: $76,833.00
High Salary: $117,000.00
Low Salary: $50,000.00
Today's Intelligence Analysts collect data from a variety of sources to detect and mitigate threats to the nation and its citizens.
Their job requires them to handle sensitive information and provide professional recommendations to US law enforcement agencies on preventing and deterring crime by analyzing data collected on active and historical threats.
Recent Homeland Security graduates interested in becoming US Intelligence Analysts will need to complete a variety of steps, including interviewing, background investigations, basic field training, and drug screens.
Job Duties for US Intelligence Analysts
Abide by US Security Protocols
Collect, Manage, and Analyze Sensitive Data
Threat Analysis
Create Real-time Intelligence Reports
Advise and Consult with US Law Enforcement Agencies
Predict, Detect, and Deter International Threats
Predict, Detect, and Deter Domestic Threats
#7. National Security Advisors
Average Annual Salary: $73,422.00
High Salary: $89,598.00
Low Salary: $60,851
US Security Consultants work closely with the Department of Homeland Security, cybersecurity experts, and other US-based security agencies to detect and deter potential security threats to data, networks, and computer systems within US agencies.
Security consultants work with other key IT professionals to prevent and respond to cybersecurity attacks, including phishing, ransomware, hacking, and DDoS attacks.
Job Duties for US National Security Advisors
Analyze Security Risks
Implement Safety Protocols to Mitigate Threats
Knowledge of Ethical Hacking and Coding
Mitigating Cyber Threats and Attacks
Penetration Testing to Detect System Vulnerabilities
Knowledge of Operating Systems – UNIX, Linus, Windows
Software Programming Languages
#8. Transportation Security Officer – TSO
Average Annual Salary: $43,384.00 
High Salary: $70,000.00
Low Salary: $22,000.00
The primary role of US Transportation and Security Officers is to maintain safety and security at American airports.
They carry out a variety of assigned tasks to prevent the illegal entry of persons, goods, and substances via US airports.
TSOs patrol airports as trained Homeland Security professionals that detect and deter airport crime.
The US Transportation Security Administration – TSA requires all candidates to be at least 18 years of age and pass a criminal background, drug, and medical screening.
Job Duties for US Transportation Safety Officers
Adhere to TSA Rules and Regulations
Passenger Screening via Pat Downs and Body Searches at Airports
Detecting and Detaining Unauthorized and Inadmissible Travelers
Patrolling Airport Entry and Exit Points
Vehicle and Parcel Inspections
Securing High Profile Persons and Events Across Transportation Sectors
Interacting with the Traveling Public
5 Tips for Homeland Security Graduates Looking for a Job
Find a job in your field of expertise and start an exciting career by using the following tips.
Tip #1. – Consider Internships and Fellowships
Many Homeland Security Bachelor's degree-granting institutions offer internships or fellowships for recent program graduates.
The United States Department of Homeland Security regularly posts job openings for recent graduates on their website.
These post-graduate programs help recent graduates build their skills and expand their network, which can help increase your chances of securing a job with a desired agency.
If you're not sure how to navigate the application process or where to begin — DHS may also help prospective candidates find a job within their preferred agency of interest through its recent graduate program. 
Tip #2. – Find Current DHS Job Openings at USAJOBS
Recent Bachelor's degree graduates can search America's job site at USAJOBS to find the latest openings for some Homeland Security jobs and related professions.
USAJOBS is a valuable resource that helps new graduates explore job openings and prospective careers in Homeland Security.
Graduates may also visit the DHS website careers page, which links to special job openings for recent graduates.
Tip #3. – Tailor Your Resume for Each Job Application
Recent graduates need to remember to tailor their resumes for each job application they submit to US agencies.
Avoiding a one-size-fits-all approach may mean the difference in starting your dream job or being overlooked.
Many jobs require multiple application processes, including uploading a specialized resume highlighting your relevant skills and experience for each job.
Copying and pasting your resume may get even top-notch applications placed at the bottom of piles of other qualified applications.
Tip #4. – Pass a Background Check and Drug Screen
Many Homeland Security education programs require students to pass a background check and drug screen.
This requirement carries over into most local, state, and federal jobs, where applicants must pass a criminal background check and drug screen before being hired.
Ensure your background is clear and free from any issues that could hinder your application process — before you apply!
Tip #5. – Prepare for Face-to-Face Interviews by Researching Prospective Employers
Thoroughly research the job description and required duties for the role you're interested in to learn how your skills match up before your first interview.
Be prepared to answer career-related questions and explain to interviewers and human resource managers how you can become a valuable asset to their teams.
Prepare for face-to-face interviews by visiting federal job search sites and reading reviews of current and former DHS employees to learn about the culture and climate of the roles you've applied for. 
Now you know what it takes to start an entry-level DHS job — your path to starting a heroic career and protecting your fellow citizens from unforeseen threats begins now!