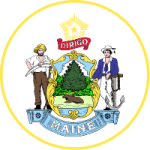 America's paralegals offer hands-on support to high-powered attorneys in fast-paced courtrooms.
If you envision yourself immersed in a fast-paced legal career and directly impacting the criminal justice system (without completing a law degree), becoming a paralegal might be the right career for you!
Paralegals who work in legal settings like courtrooms, private law offices, and corporate legal departments represent the legal lifeblood of many organizations.
Their attention to detail, dedication to research, and investigation skills make them invaluable members of the American Justice System.
If you're considering becoming a paralegal in Maine, you need to take a few important steps.
The first step is choosing a paralegal education program that prepares you to enter the workforce as a certified paralegal or equips you with the knowledge and skills needed to work as a paralegal while pursuing your law or criminal justice degree.
This guide provides you with the basics of what it takes to become a paralegal in Maine.
Below, we provide you with example paralegal job duties, top paralegal certification options, and a summary of campus-based, hybrid, and online paralegal programs.
Maine Paralegal Job Duties
The role of a paralegal requires a dedication to duty and a commitment to ethical legal practices in support of courtroom attorneys.
Paralegal jobs encompass multidimensional roles and a wide variety of practical and substantive legal skills.
A typical day in the life of a Maine paralegal can include any (or all) of the following duties:
Legal Research: Conduct legal research for attorneys for laws, statutes, regulations, and precedents.
Document Management: Drafting, editing, and proofreading legal documents, including contracts, pleadings, and briefs.
Client Communication: Interacting with clients to gather information, provide case updates, and address inquiries.
Court Filings: Preparing and filing legal documents with the court while monitoring dockets for upcoming court dates, changes, or appearances.
Depositions and Witness Interviews: Explaining the legal process of witnesses, interviewing, and preparing witnesses for courtroom procedures.
Mastering Legal Technology: Use the principles of eDiscovery in casework while ensuring electronic files, communications, and evidence are secure.
Administrative Legal Tasks: Billing, expense tracking, and calendar management for supported attorneys.
Continuing Legal Education: Staying updated on changes in local, state, and federal laws, legal procedures, and certification requirements.
Maine Paralegal Certifications
Earning a paralegal certification in Maine can put you on the fast track to a well-paying and rewarding legal career.
While Maine doesn't officially require paralegals to have formal education or licensing, most industry professionals recommend it, and legal employers prefer it.
Paralegal certifications tell employers you have successfully completed paralegal education and have consistently demonstrated competency or excellence on the job.
The following are examples of top paralegal certifications awarded by national certification agencies.
NALA – Certified Paralegal (CP)
The National Association of Legal Assistants certification agency issues the Certified Paralegal Certificate.
They issue this highly coveted certification that shows competency and excellence to qualified candidates who complete an American Bar Association-approved paralegal training program and the CP exam.
Prospective paralegals can earn CP certification by earning a bachelor's degree in paralegal studies or having verifiable proof of working as a paralegal for at least seven years.
NALA – Advanced Certified Paralegal (ACP)
Paralegals who want to increase their earning potential by adding an Advanced Certified Paralegal Credential can sit for the NALA ACP exam by completing the prerequisite CP credential and the required amount of continuing legal education.
Best Paralegal Programs in Maine
Prospective paralegals in Maine will find limited options for paralegal education when compared to other states that offer paralegal certificates, an associate degree, and a bachelor's degree.
We've scoured the internet to find some of the best paralegal programs in Maine.
What to Look for in a Paralegal Program?
There are a few critical factors for aspiring paralegal students to consider when looking for the best paralegal programs.
American Bar Association Approved Program: Do your research to learn if the ABA approves the paralegal program you're interested in.
ABA-approved programs show that they have passed quality education checks, and their programs are well-respected by legal employers.
Certification Preparation: Maine paralegals serious about leveling up their careers will want to find a paralegal program that prepares them to sit for national certification tests administered by the National Association of Legal Assistants and the well-respected National Federation of Paralegal Associations.
Both of these agencies issue coveted paralegal certifications that most legal employers prefer.
Student Support Services: Check with your program director to learn what support services are available for paralegal students.
Pre-law students like paralegals often need program-based support in finding internships, externships, and job placement assistance upon graduation.
The programs below represent paralegal studies and legal studies programs that provide students with the foundational, practical, and hands-on knowledge needed to become a practicing or certified paralegal in Maine.
Now that you know what to look for in a paralegal training program, the following is a summary of the best programs available in Maine!
Sponsored Listings
1

University of Maine at Augusta
About the Program
The Justice Studies at the University of Maine's Augusta campus provides students with a legal foundation needed to work in a variety of fields, including law enforcement, paralegals, and lawyers.
They offer a 60-credit-hour associate degree and a 121-credit-hour bachelor's degree with the option of pursuing your legal education via an accelerated format.
Students can pursue their bachelor's or associate's degree with or without a concentration in criminal justice or pre-law.
Courses Offered
Foundations of Criminal Justice
College Writing
Survey of Constitutional Law
Due Process in Criminal Justice
Criminal Law
American Legal History
Legal Writing
Legal Research and Materials
Community Policing
Program Cost: $252.00-683.00 per credit hour.
Contact Information
---
2

Husson University
About the Program
Bangor's Husson University has a 15-credit hour paralegal certificate program designed for practicing paralegals.
This program consists of five classes that focus on the practical applications of paralegal studies.
Students will learn how to complete legal research and writing and the basics behind Alternative Dispute Resolution.
Husson University's certificate program also teaches essential legal ethics that paralegals must adhere to when supporting attorneys and their clients.
This program also serves as a prerequisite for students who want to continue their legal education at Husson by completing the Advanced Civil or Criminal Practice Certificate.
Courses Offered
Legal Research and Writing
Criminal Law
Business Law I
Alternative Dispute Resolution
Legal Ethics
Program Cost: $684.00 per credit hour plus materials and fees.
Contact Information
---
3

Southern Maine Community College

About the Program
Southern Maine Community College has an online paralegal studies program for entry-level and continuing legal education students.
Their program has seven start dates throughout the year.
Each learning session lasts seven to fourteen weeks, and instruction for this program is entirely online.
Their online paralegal training courses offer several options for getting paralegal certificates online.
SMCC's courses are delivered by CLS by Barbi in an interactive and accelerated online format that requires students to complete all coursework with a score of 70 or better.
Students will be prepared for entry-level paralegal careers and testing for national certification credentials.
Courses Offered
Paralegal Certificate Training
Advanced Paralegal Certificate Course
Technology for the Legal Profession
eDiscovery for Paralegals
Paralegal Research and Writing
Legal Investigation
Alternative Dispute Resolution
Employment Law
Program Cost: $995.00-$3,300.00
Contact Information
---
4

Northern Main Community College
About the Program
Northern Maine Community College has partnered with online e-learning to provide Ed2go to deliver its online paralegal certificate program.
Their online program acts as an introduction to the legal field for legal professionals who don't require a four-year degree.
This online certificate program teaches entry-level paralegals the basics of legal terminology, investigations, document management, and how to ethically navigate the halls of justice.
NMCC offers the instructor-led version of their online paralegal course with six weeks of access from September to December.
Their self-paced program without an instructor is available anytime through open enrollment.
Courses Offered
Writing Legal Briefs
Employment Law
Legal Interviewing
Criminal Law
Appellate Procedure
Tort Law
Investigating Legal Matters
Analyzing and Drafting Legal Documents
Conducting Legal Research
Job Hunting
Program Cost: $129.00-$179.00
Contact Information
---
Schools Summary Table
Paralegal Salary Information
Online salary reports show that Maine paralegals earn anywhere from $33,000.00 to $58,396.00 annually.
The average salary for paralegals in Maine falls right around $44,000.00.
Entry-level paralegals who want to earn more can increase their earning power through formal training and certification.
Certified paralegals in Maine are more likely to earn higher salaries than non-certified legal assistants without certification.
Most paralegal salaries will gradually increase over time with a combination of continuing education, paralegal certification, and increased years of on-the-job experience.
They can also bolster their salaries by specializing in a high-demand legal niche or specialty where their skills are drastically required.
Legal Specialties in High Demand in Maine and Across the US
If you're wondering what legal specialty to choose from to supplement your paralegal, the following are examples of legal specialties that are currently in high demand in the state of Maine and across the US.
Annual Salary Range:
| Item | Percent |
| --- | --- |
| $57K | |
| | |
| | |
| | |
| $64K | |
| | |
| | |
| | |
| $72K | |
Average Salary in Maine
| City Name | Salary |
| --- | --- |
| Portland | $65,959 |
| Lewiston | $65,291 |
| Bangor | $61,116 |
| South Portland | $65,959 |
| Auburn | $65,291 |
| Brunswick | $65,380 |
| Biddeford | $65,648 |
| Sanford | $67,316 |
| Augusta | $62,869 |
| Scarborough | $65,959 |
Regional Salary
| Region | Employed | Avg. Annual Salary | Avg. Hourly Pay | Top 10% Annual Salary | Bottom 10% Annual Salary |
| --- | --- | --- | --- | --- | --- |
| Bangor, ME | 110 | $55,200 | $26.54 | $66,530 | $47,070 |
| Lewiston-Auburn, ME | 70 | $51,830 | $24.92 | $58,240 | $40,550 |
| Portland-South Portland, ME | 390 | $61,700 | $29.66 | $85,330 | $49,510 |
* Salary information based on the May 2022 Occupational Employment Statistics (OES) Survey for Paralegals and Legal Assistants, OCC Code 23-2011, BLS.
* Employment conditions in your area may vary.
---
Paralegal Programs by State